Congratulations to MHS Freshmen Maggie Ervie, Nora Vandeloecht, and Ella Sportsman for winning 3rd place at the MoDoT Year-end TrAction Conference. They competed against 10 other teams from across Missouri and were awarded $1,000 for their outstanding work in promoting traffic safety.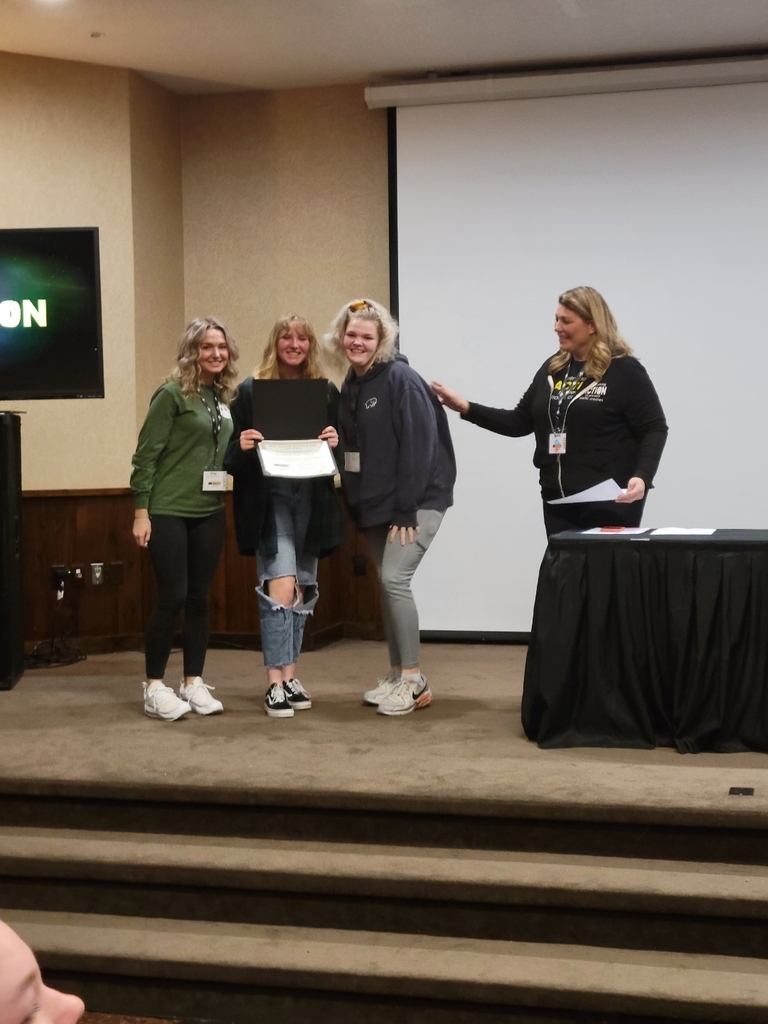 Congratulations to our 2023 Prom Royalty: King Candidates: Rafe Bohonsky, Mason Crossland, and Canaan Wright Queen Candidates: Hannah Paalhar, Emmy Smithhisler, and Ava Sportsman

FFA District Leadership Development Results Congratulations to our Conduct of Chapter Meetings team for receiving third at districts advancing to state! The team consists of Emily Darling, Josiah Mullins, Javen Lichtenberg, Tucker Ewigman, Trace Huber, Baylor Stearns & Jersey Darling. Also competing tonight was our Agriculture Sales Team. The team consists of Elizabeth Shackelford, Brailey Niemeier, and Riley Rowe. We are so proud of these young ladies and their accomplishments this year.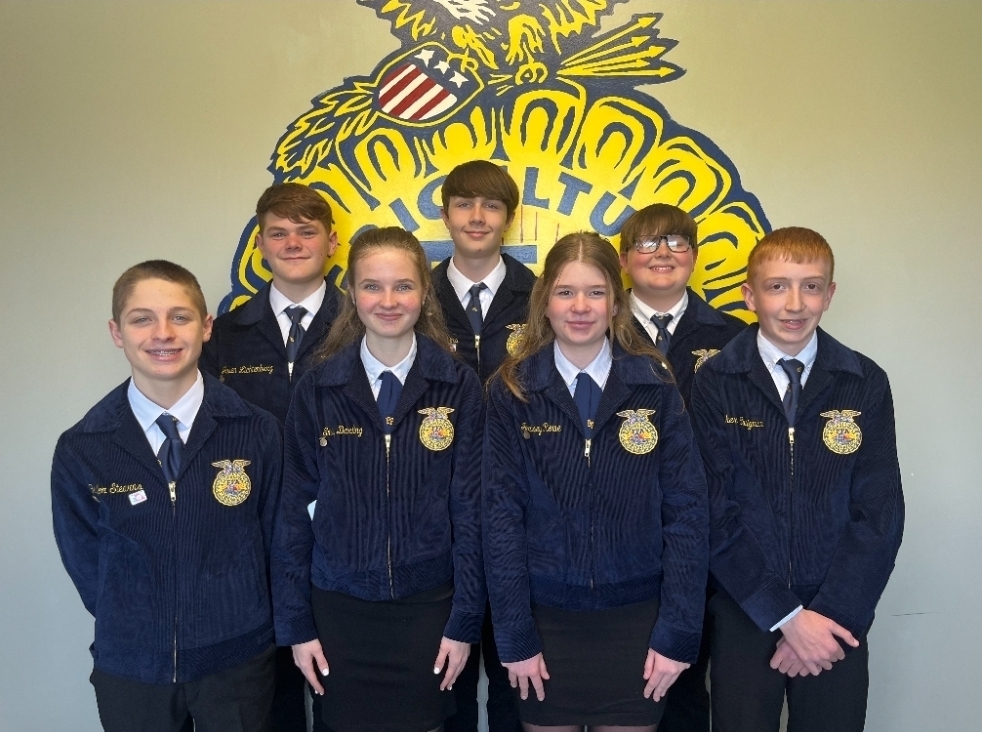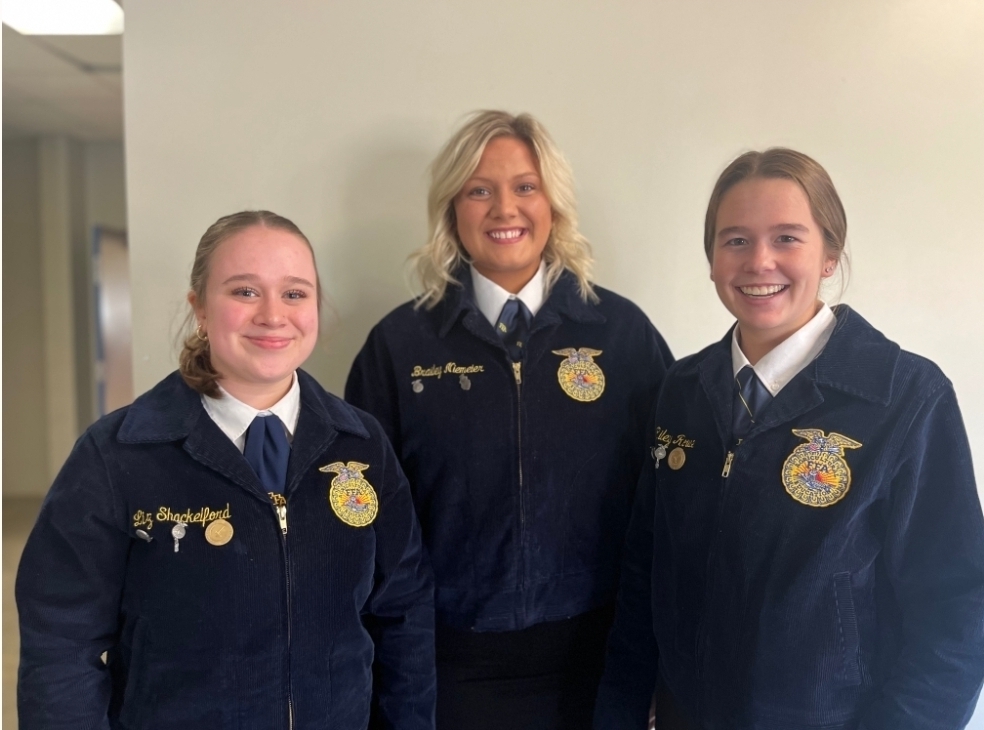 Monday Night Tiger Action Varsity baseball lost to Brashear 6-11. JV defeated Brashear 6-1. MS girls track placed 3rd at the Westran Open. MS boys track also placed 3rd at the Westran open. For Individual Places, visit
https://mo.milesplit.com/meets/527994-westran-ms-open-invite-2023/results#.ZCJEpHbMKUk
Boys Golf shot a 232 at the Macon tri. Individual Scores- Ryan Stallo 51 Trenten Schreiner 56 Lennon Barnes 59 Hayden DeWeese 62 Aiden Cagle 63 Hudson Schmitt 64 Isaac Allen 65 Trenton Goosey 71

This Week's Activities Cairo Baseball Tournament Schedule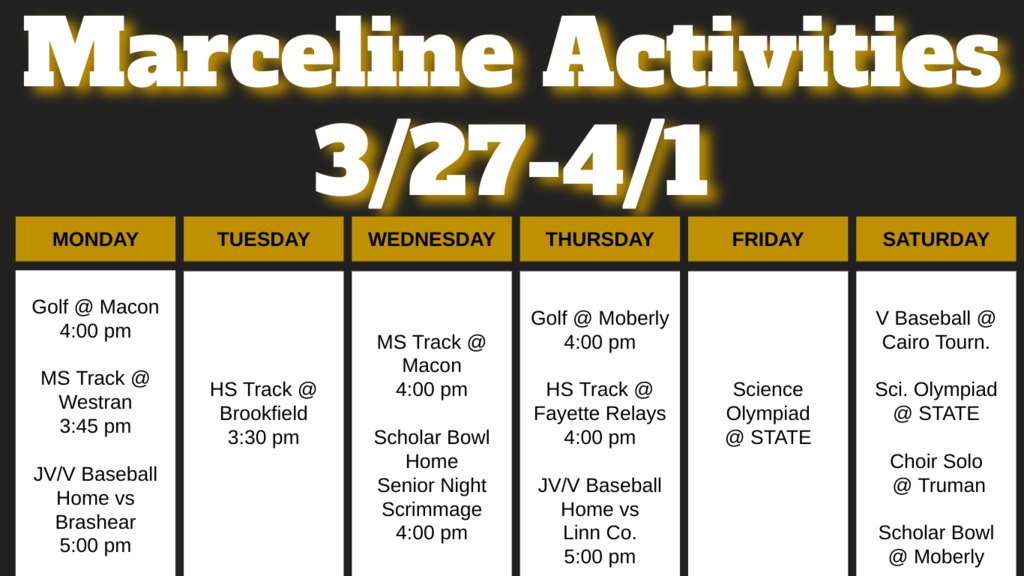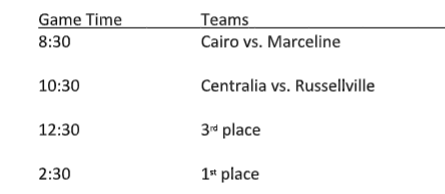 Friday Night Home Opener Varsity baseball lost to Glasgow 3-11. The JV game was called due to rain with a 3-3 tie.

Congratulations to the MS/HS students of the week.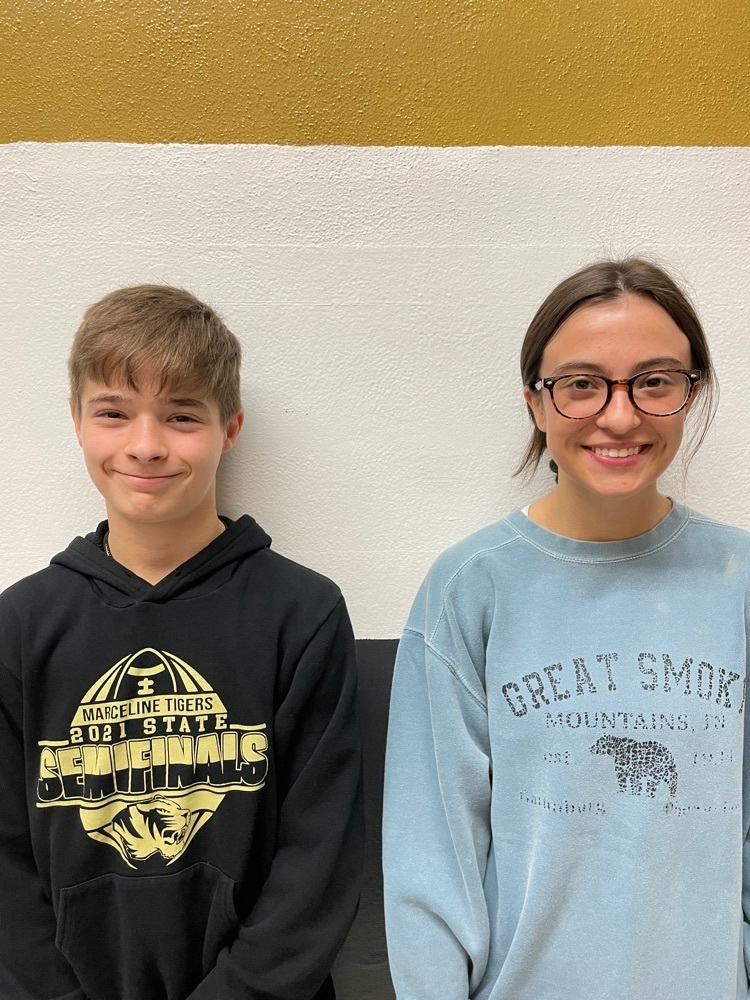 Win a free skateboard! All students currently in grades 5-8 who enroll in Summer Journey by next Friday AND attend the first 10 days of the program will be entered into a drawing to win this skateboard worth $150! (Alternate prize choice is a $150 Amazon gift card.) Click the link below to enroll:
https://forms.gle/w9FxwYJzqbaxmrai6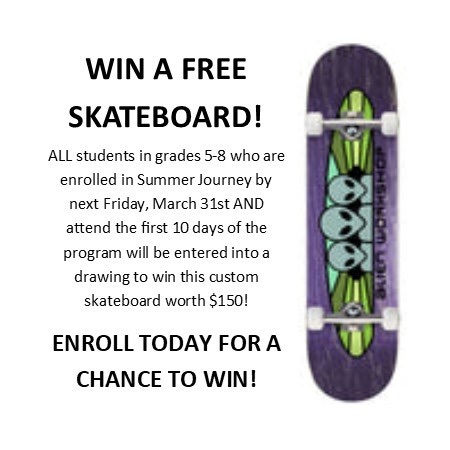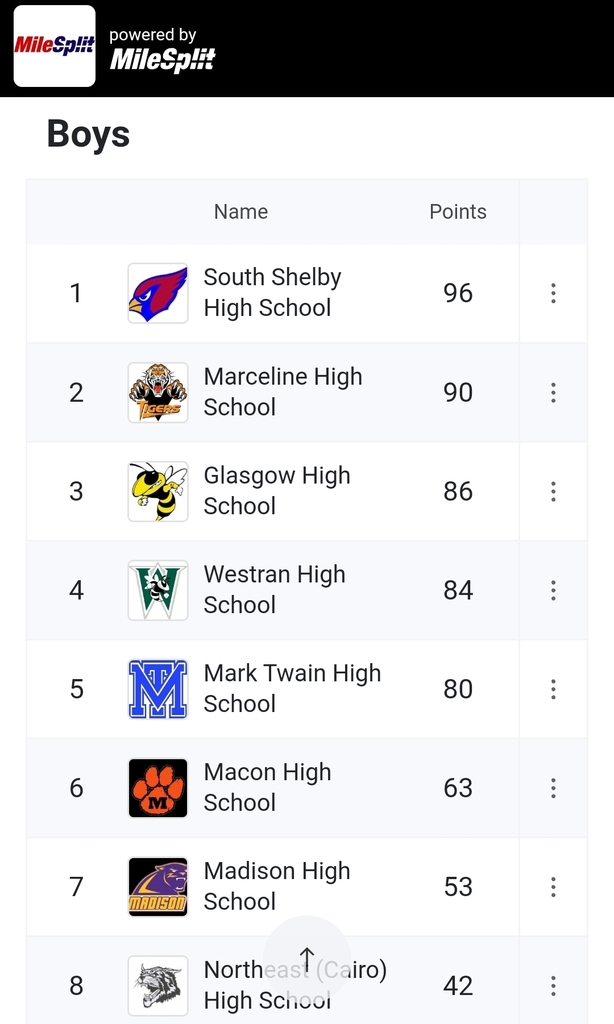 Congratulations to Tess Sheerman for earning Missouri Scholars 100 honorable mention, a state wide program that honors the top 100 of Missouri's top academic students in the graduating class of 2023.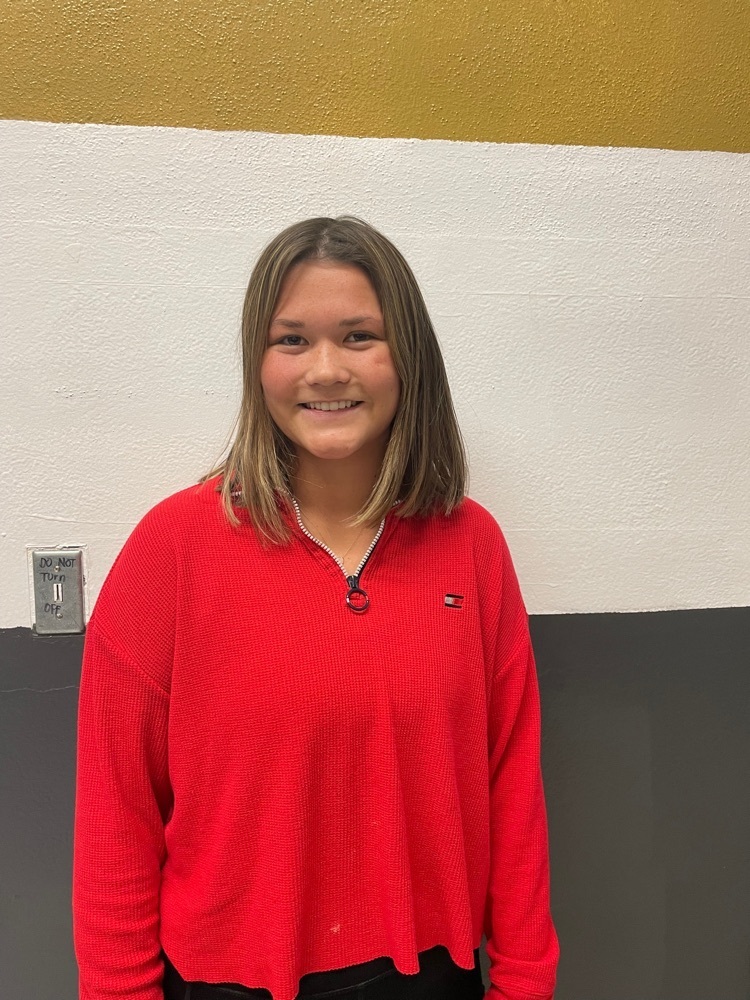 Due to wet field conditions, tonight's high school baseball game at Slater has been canceled. There will not be a make up date.

Monday Golf Scores Varsity Golf shot 379 as a team at the Fr. Tolton Invitational. Lance O'Dell tied for 9th with an 83 and Braden Lichtenberg tied for 11th with an 84.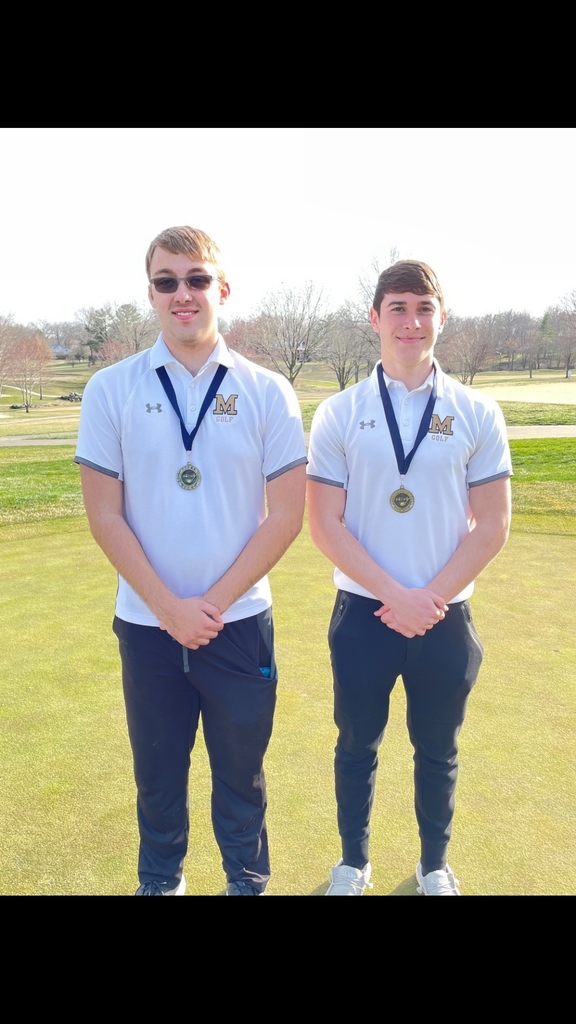 Congratulations to Hannah Paalhar, Ava Sportsman, and Michah Tate for earning recognition at this year's Scholastic Art and Writing Awards. These students join a list of famous winners, including Joyce Carol Oates, Stephen King, and Andy Warhol.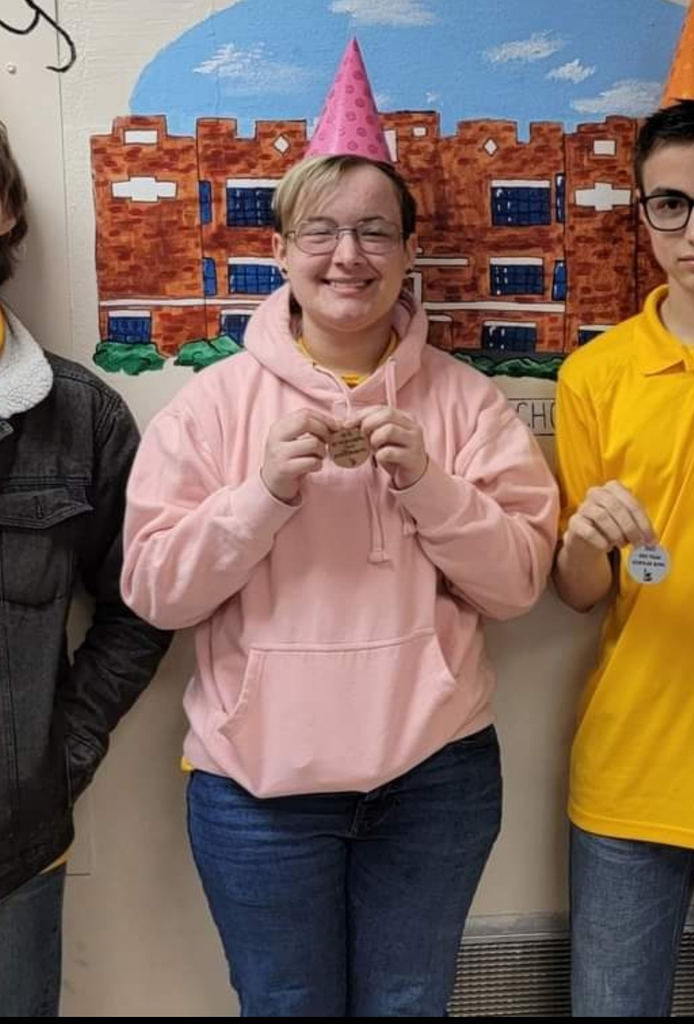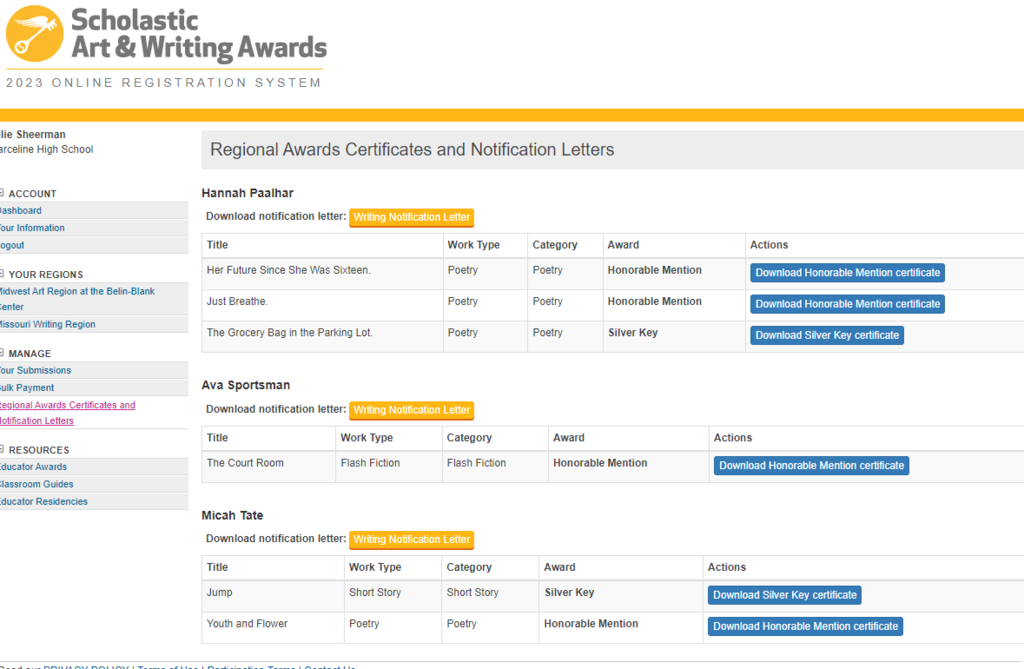 Bond Information 2023 Frequently Asked Questions. What is a Bond Issue? A bond issue is a traditional way for schools to borrow money to pay for major school maintenance and repair projects, such as adding security measures or upgrading deteriorating areas. With a Bond Issue, the school district must use the funds for the projects listed in the ballot language. Will the Bond Issue raise my Taxes? No. This is a NO TAX INCREASE Bond Issue, meaning voter approval will not increase the District's current debt service tax levy, which is dedicated to the repayment of bonds.

Parents of 7th, 11th and 12th grade students: You received an email last week about our annual spring immunization clinic to be held on Thursday, March 23 with attached permission forms. If you have not returned your permission form or need a copy, please contact Nurse Kelly
tkelly@marcelineschools.org
. We need to have a count by tomorrow. Thanks!

Spring Sports District Assignments Girls Track: Class 1- District 3 Boys Track: Class 1- District 3 Baseball: Class 2- District 7 Golf: Class 1- District 2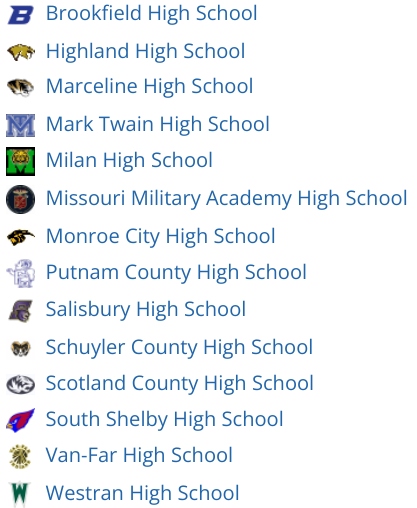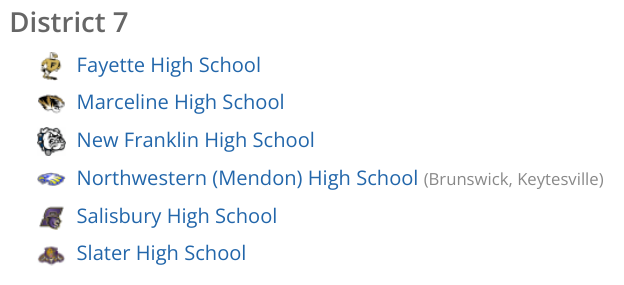 This Week's Activities *Note: Monday's track meet at Macon has been moved to Tuesday, April 4th. Track will not go to Macon Monday.

After three exciting days consisting of 12 qualifying matches at the Heartland Regional Competition, Black Knight Robotics was privileged to be selected by Park Hill South Robotics Team 5126 and BV CAPS Metal Mustang Robotics to go into the finals as part of their 5th seed alliance. Unfortunately, they were eliminated in game three of the semifinals, but it was a great overall competition for Black Knight Robotics-Team 4809. Congrats, Black Knights!

Our robotics team had a great first day at the Heartland Regional- finishing 13th out of 36 teams. If you are iterested in watching Black Knight Robotics compete, follow this link. Our schedule is posted below, however, times are subject to change dependent on the timing of other matches.
https://www.twitch.tv/firstinspires11


Congratulations to our high school FFA members Halle Allen, Savannah Emmerich, and Maggie Ervie! Halle was one of Missouri's TOP 30 incoming high school senior FFA members selected to attend HYPE Academy this summer! Savannah and Maggie were one of 100 incoming sophomores accepted to attend Missouri FFA HYMAX Academy! Congratulations to all 3!