Red Wheel order forms are due Monday! Please be sure to include payment for all items when forms are turned in. Thank you for supporting our PBS program!

Reminder: Marceline R-V Schools dismiss at 12:15 pm on Friday for Homecoming. The ELC will close at 2 pm on Friday.




Due to scheduling conflicts, the MS softball game at Westran on 9/21 will start at 4:45, no B game. Varsity will still start at 5pm

Thanks for your help with our PBS Red Wheel Fundraiser! Please find an electronic version of the flyer if you'd like to share with friends and family for ordering!
https://5il.co/yzhn



Correction: there is no MS softball at South Shelby tonight, it is HS softball only

Activities schedule: Week of 9/7/21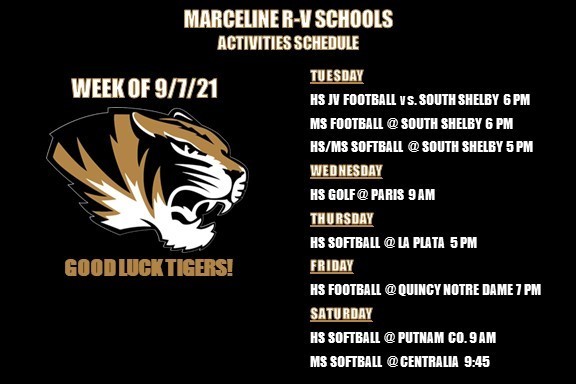 JOB TITLE: Food Service/ELC Para JOB VACANCY DESCRIPTION: Half time Food Service and half time Early Learning Center Paraprofessional. DESCRIPTION:The Marceline R-V School District is currently accepting applications for a full time position that is shared between food service and ELC Paraprofessional for the 2021-2022 school year. This is an hourly position with full benefits. MINIMUM QUALIFICATIONS/SKILLS REQUIRED: Candidates must be able to pass a Paraprofessional Praxis test. Prefer two years of study (60 credit hours) at an institution of higher education. Qualified candidates must also pass a background check required by the Missouri Department of Elementary and Secondary Education. OTHER INFORMATION:To be considered for this position, submit a completed classified staff application to: Marceline R-V Central Office, 400 E Santa Fe, Marceline Mo 64658. Classified applications are available on the district website at marcelineschools.org. Contact Dawn Lichtenberg at 660-376-6010 or
dlichtenberg@marcelineschools.org
or Shelly Simmons at 660-376-3371 or
ssimmons@marcelineschools.org
for further information.

MS Softball Centralia Bracket for 9/11/21


Tonight's Bell Game bonfire begins at 7pm at the field! Hope to see you there. Go Tigers!

Varsity softball opening bracket for the tournament at Putnam County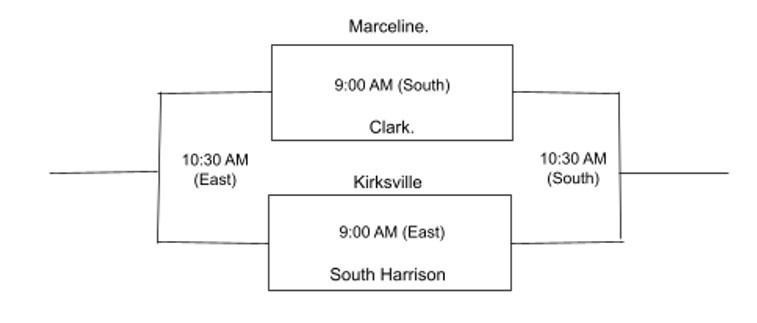 Due to the holiday weekend, next week's JV football game vs. South Shelby is on Tuesday, September 7th at 6pm

Schedule update: on 10/5/21 for softball vs. Knox County, we will play MS A game at 5pm on the big field, senior night introductions to follow the MS game, and finish with the high school varsity game. Their will be no B team MS or HS JV game on this night.