Baseball vs Fayette Varsity lost 2-5. JV lost 6-12.

Golf Results from the Kirksville Invitational Our boys finished 7th overall as a team out of 16. The scramble team of Braden Lichtenberg and Trenten Schreiner shot a 75 earning them 3rd place. Lance O'Dell shot an 82 for a 3rd place medal out of the individual golfers. And the Best Ball team of Hayden DeWeese and Aiden Cagle shot 105.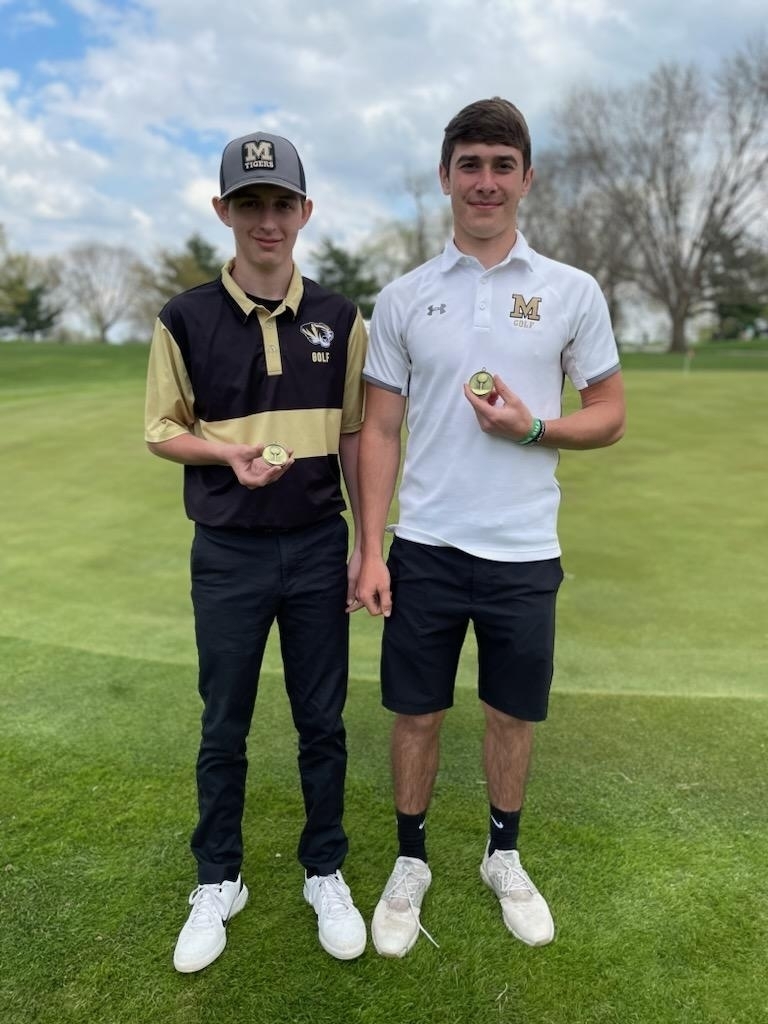 Monday Golf @ Trenton Our Varsity placed 2nd out of 4 teams with a 172 at Trenton last night. Braden Lichtenberg tied for first out of the individual golfers. Individual Scores- Braden Lichtenberg- 37 Lance O'Dell- 40 Trenten Schreiner- 45 Hayden DeWeese- 50 Aiden Cagle- 57 Lennon Barnes- 65

Monday Night Baseball Varsity lost to Harrisburg 0-12. JV lost to Harrisburg 1-5.

We are TnT! We're dynamite! Huge congratulations go out to the MHS TIGERS n Traffic Team for being recognized at the State Capitol today for winning the Buckle Up, Phone Down challenge and advocating for distracted driving laws in Missouri. Special congrats to Marceline's very own Adrienne Siddens for being one step closer to getting a law passed named in honor of her late husband. Super emotional and PROUD day! And thank you to Representative Peggy McGaugh for taking the time to meet with our students.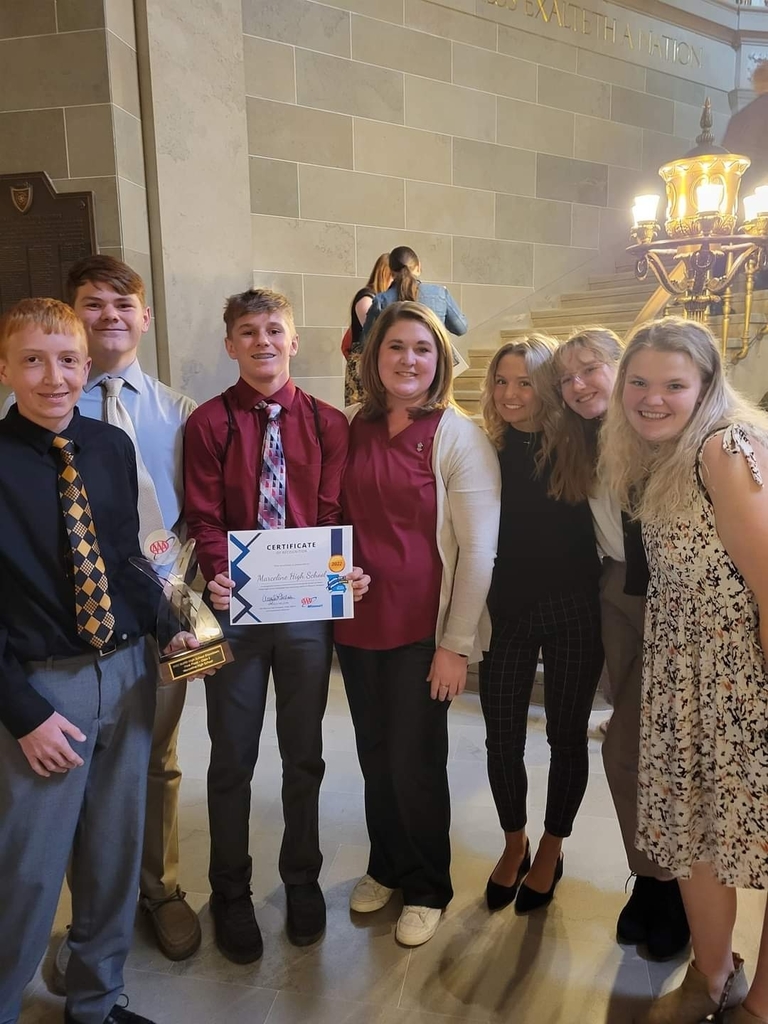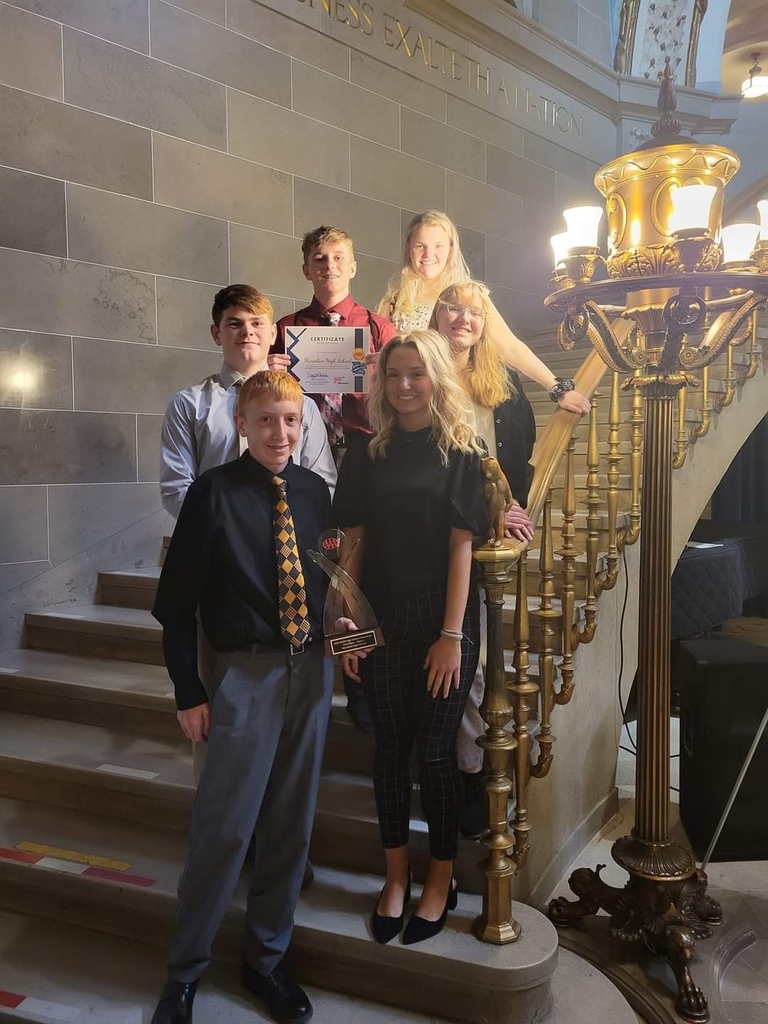 If you have not ordered a 2022-2023 Marceline Middle/High School yearbook yet, this is the last week to do so. The cost is $42 and must be paid at the time of purchase. All orders must be placed with Mrs. Rollison by Thursday, April 27.

School Health Advisory meeting April 25 at 3:15 pm in the HS SPED classroom behind the auditorium. Any Marceline R-V parents welcome to attend.

Friday Night Baseball Varsity lost to Scotland Co. 2-6. JV also lost to Scotland Co.

Lewis and Clark Conference Golf Results Our Varsity Tigers earned second at the LCC Tournament today with 2 medalists- Lance O'Dell and Braden Lichtenberg. Individual Scores- Lance O'Dell- 78- 2nd Place Braden Lichtenberg- 81- tied for 3rd Ryan Stallo- 95 Trenten Schreiner- 96 Hayden DeWeese- 110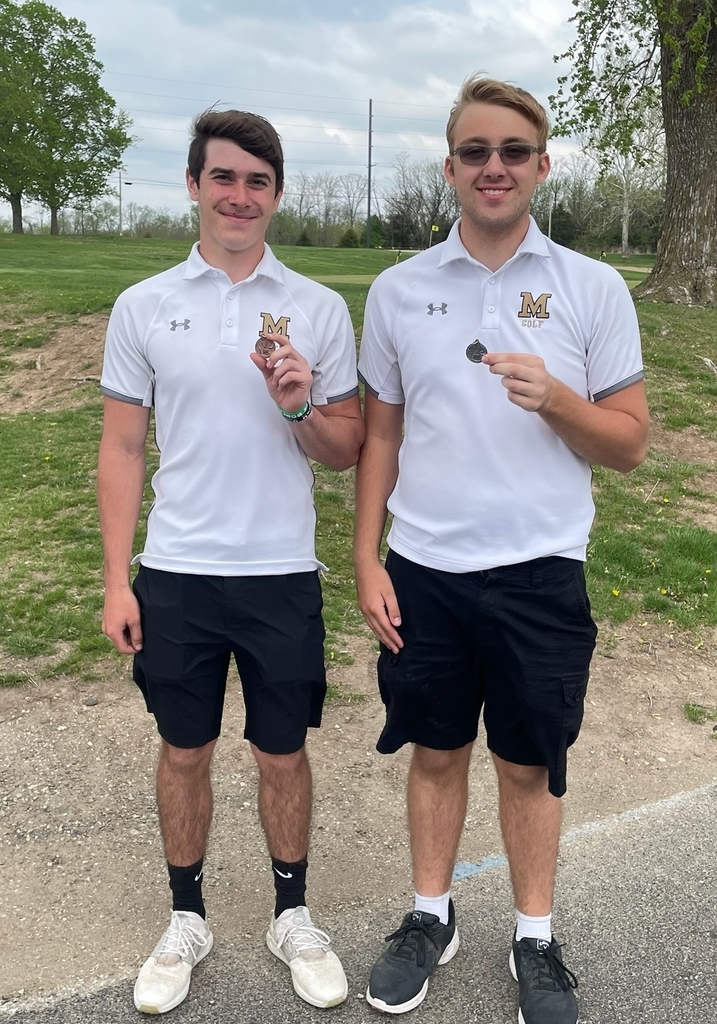 Tonight's baseball games against Scotland Co. have been POSTPONED. We will make up the game TOMORROW night (Friday 4/21) at home with Varsity starting at 5:00 pm.


Tonight, we were able to honor someone who has given so much to our track program over the last 20 years- Coach Derrick Becker.  Coach Becker has been an integral part in all aspects of Marceline Tigers Track and Field- from producing conference, district, and state champions to organizing and running every single meet on this track- there is no part of the program that he hasn't impacted in a positive way. As a small token of our gratitude and appreciation for all he has given over the years, we were pleased to dedicate the track meet to him and renamed the Marceline Relays the Derrick Becker Relays. Pictured is Derrick Becker with several of his past track athletes in attendance to witness his recognition.



This Week's Activities GAME CHANGE- Monday's Baseball Game at Westran will start at 5:30 instead of 5:00. There will NOT be a JV game.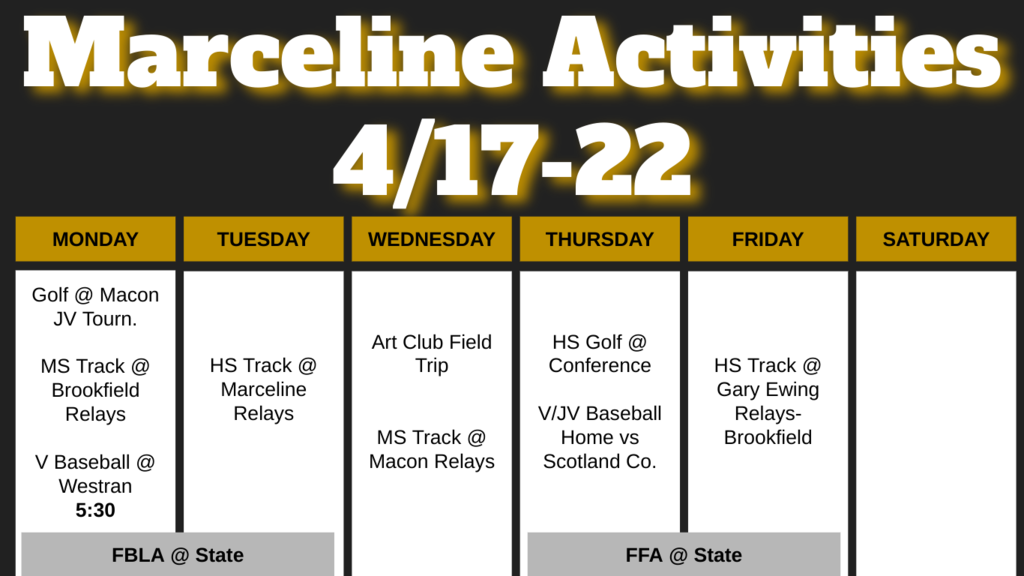 Friday Night Baseball Varsity lost to Salisbury 3-14. JV lost to Salisbury 1-7.

Attention Junior and Senior Parents- Just Friends Photography will be taking Prom pictures this year starting at 5:30 p.m. on April 29th. Please see the flyer for package prices.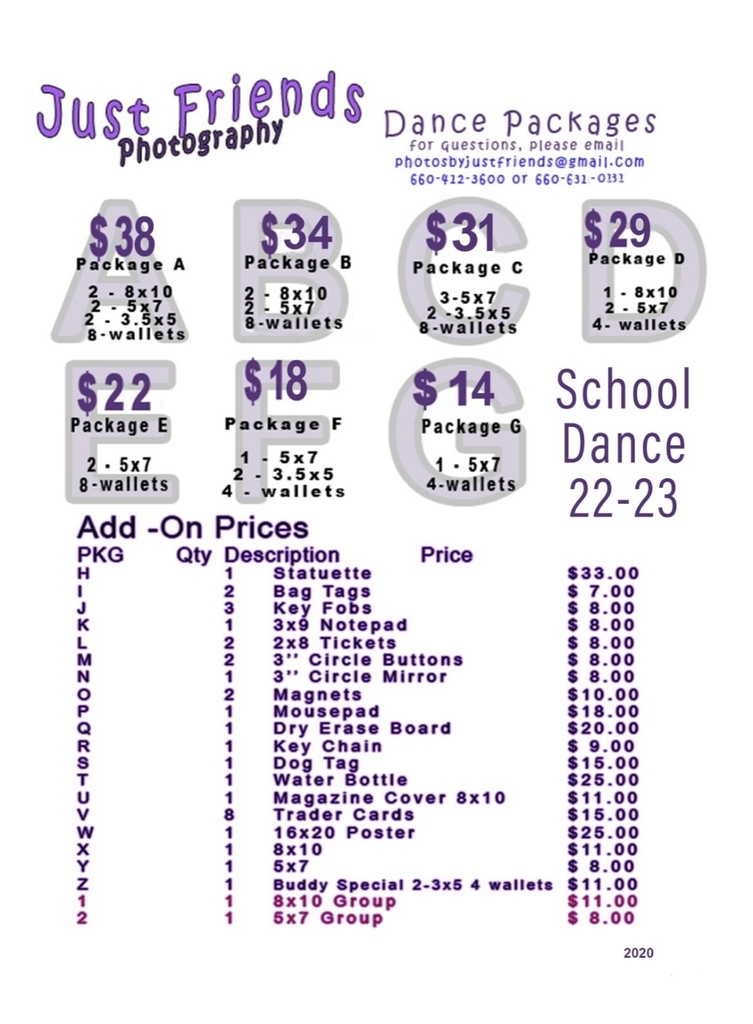 Due to the scheduling conflicts, the FCCLA awards ceremony will be held following NHS Induction on Sunday, April 23rd. Seniors will receive their graduation cords during this program.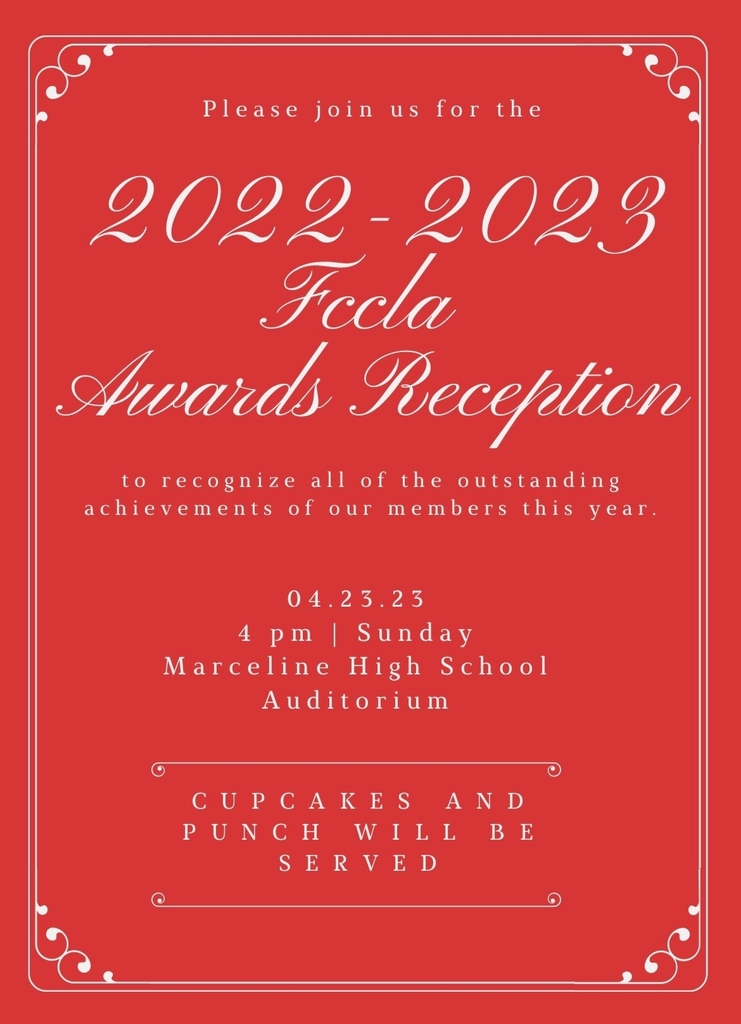 Thank you to Mr. Christopher Pate from MADD for preparing our students for a safe and sober Prom, graduation, and future.