JOB TITLE: Middle/ High School Special Education JOB VACANCY DESCRIPTION: Middle/ High School Special Education (6-12) DESCRIPTION: The Marceline R-V School District is currently accepting certified applications for the position of a MS/HS Special Education Teacher for the 2022-2023 school year. MINIMUM QUALIFICATIONS/ SKILLS REQUIRED: Valid Missouri teaching certificate for position assigned. Prefer Mild/Mod Cross Cat. certification. EDUCATION: Bachelor's Degree. OTHER INFORMATION: To be considered for this position, submit a completed certified staff application, college transcripts, teaching certificate, three letters of reference , cover letter, and resume' to: Marceline R-V Central Office, 400 E California Ave, Marceline, MO 64658. Certified applications are available on the district website at marcelineschools.org. Contact Dawn Lichtenberg at 660-376-6010 or
dlichtenberg@marcelineschools.org
for further information.

There will be a state football trophy presentation in the fieldhouse tomorrow (12/7) at 11 am. There will be a livestream for those unable to attend.


State football shirts are ready for pickup at Allstate Insurance. We will be here until 2:15 and then back after the assembly is over until 6:30 pm tonight. Go Tigers!

State Football Fan Information: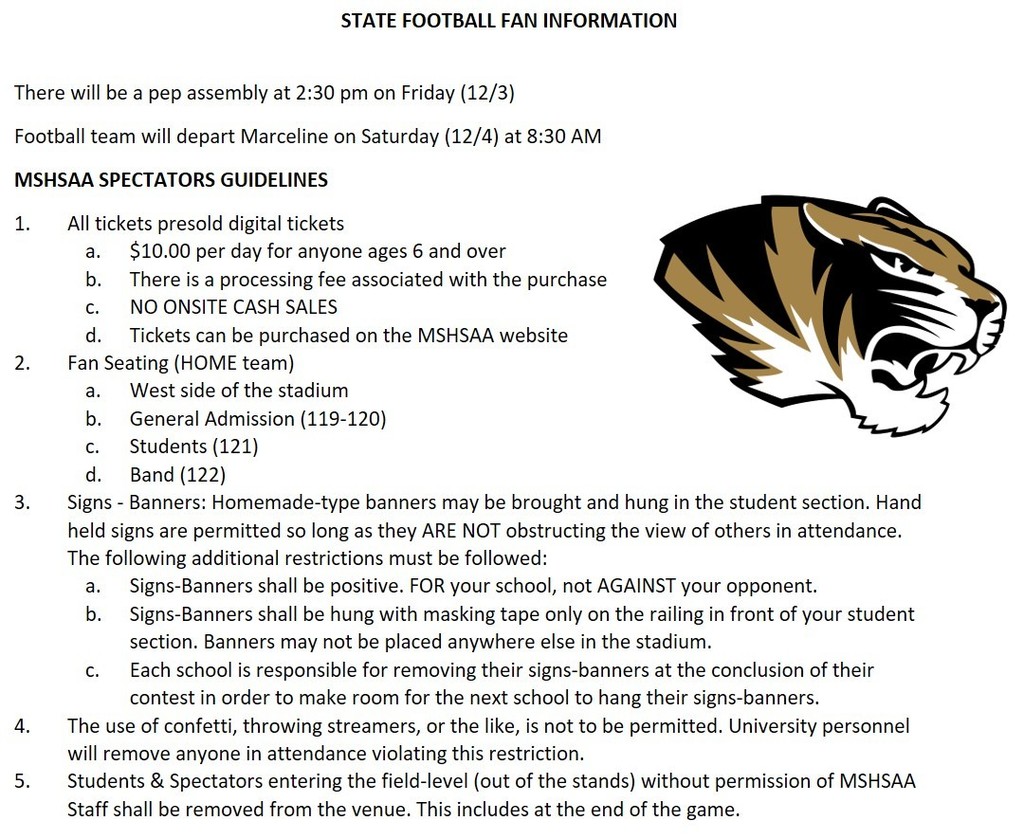 State football shirt orders are due Sunday no later than 8 pm. T-shirts, $15-17, and hoodies, $32, are available. Contact Cindi Rodgers at 660-734-3864 or check out the Tiger booster club Facebook page.


Marceline R-V Schools will dismiss at 3 pm today. Classes will resume on Monday, Nov. 29.

SCHOOL BOARD ELECTION Public Notice of Filing Marceline R-V School District will accept declarations of candidacy from any person interested in running for a position on the School Board in the April 5, 2022 election. Two (2) 3 year positions will be open for election. Persons interested may file with the Board Secretary at Central Office located at 400 E. Santa Fe Ave, Marceline MO 64658. Filing will begin on December 7, 2021 at 8:00 a.m. and will continue during the district's regular business hours, which are Monday through Friday from 7:30 a.m. to 3:30 p.m., through December 23, 2021. Filing will not occur on the following holiday when the school district's offices are closed: December 24, 2021. Filing will resume on December 27, 2021 and end on December 28, 2021 at 5:00 p.m. There are two positions available with three-year terms. Candi Ervie Secretary, Board of Education Marceline R-V School District

Congratulations to the following on being selected for NE Media All District: Brendon Catron, Hunter Nelson, Jace Bixenman (1st Team D), Jack McCauslin (2nd Team D), Jace Bixenman, Landen Gardner (1st Team O), Hunter Nelson, Hunter Quinn (2nd Team O), Jacob Stallo, Drake Stufflebean (1st Team ST)

We will be cancelling this year's Tiger Mat Classic.

HELP WANTED – FULL TIME CUSTODIANS The Marceline R-V School District is seeking applicants for full time custodians, 40 hrs/week with benefits. Please see Audie Niemeier, Maintenance Director, or Central Office (660-376- 3371) for an application.

Correction school dismisses tomorrow at 3 pm!

Just a reminder that the Fall Sports Banquet is tomorrow evening at 6:30pm in the new gym. Please check invitation letter for food items that each class is responsible for. Go Tigers!

State semi finalist t-shirts,$15,and hoodies, $32, orders are available now through the booster club. Orders are due Monday by 8 am.

Game time for next Saturdays semi-final football game will be at 1pm


Winter Activity district assignments: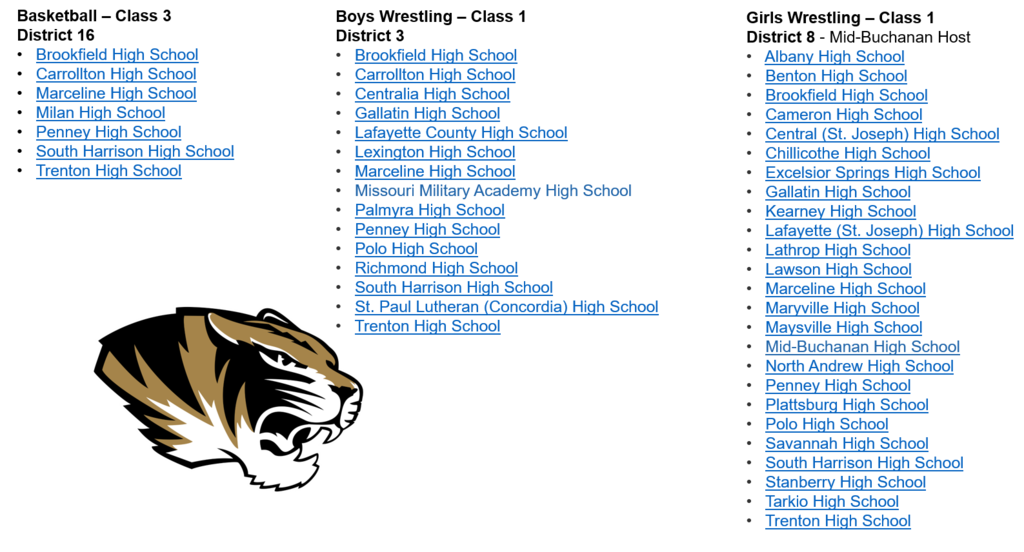 Girls Glasgow Tournament bracket. Our boys team will not be playing in the tournament this year. Go Tigers!