The MS basketball game scheduled vs. Cairo for 11/19 will be played tomorrow (11/10) at home with games beginning at 5 pm. Game order will be B Girls, A Girls, & A Boys.

Tonight's game begins at 7pm. Passes are not accepted during district play. Admission is $5. Go Tigers!

MS/HS Student of the week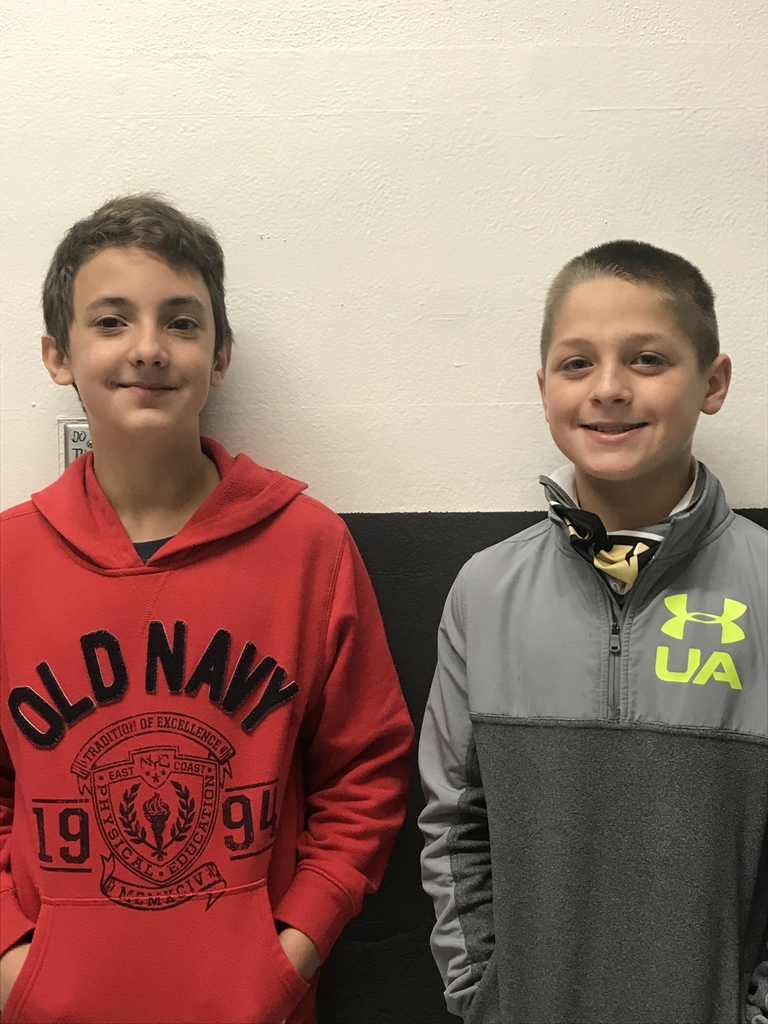 Next week's middle school conference basketball tournament has been postponed. Make-up date to be determined.

Congratulations to the all-conference football players! Go Tigers!

Message from Superintendent.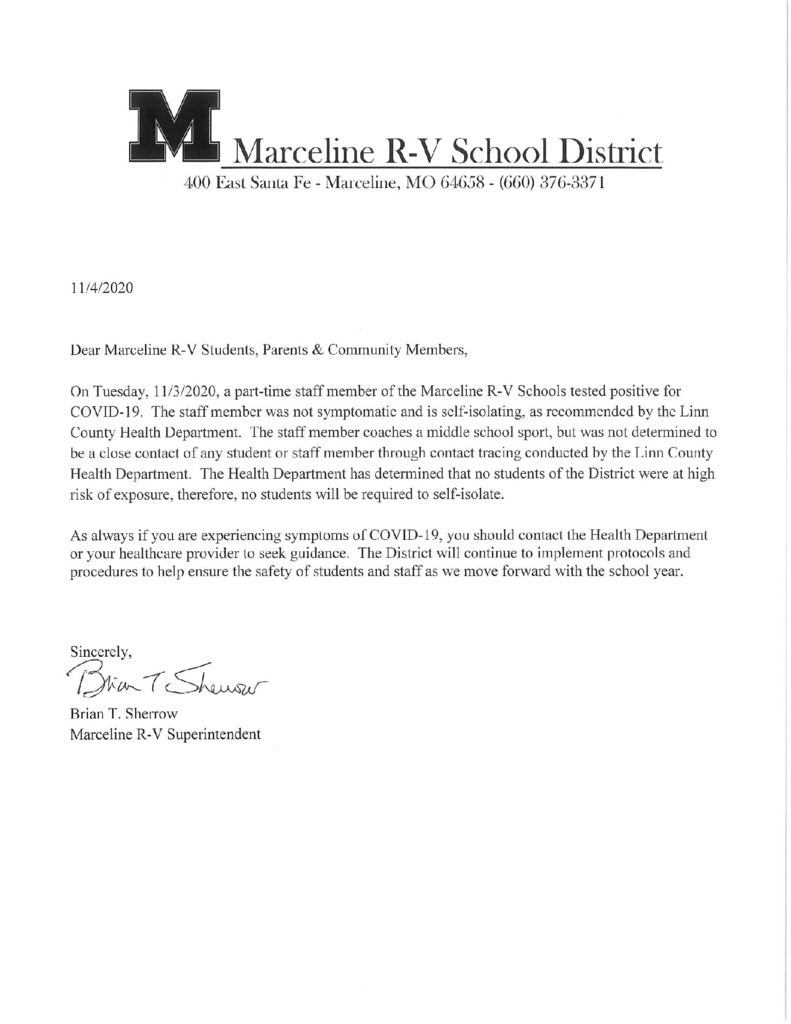 Reminder: Marceline R-V Schools dismiss at 12:15 on Wednesday, Nov. 4 for teacher in-service.

Just a reminder as we host our first MS basketball tonight, you must have a ticket in order enter the facilities. Tickets were given out to each participants last week. Go Tigers!

2021 Marceline Middle/High School yearbooks are now on sale. The cost is $37 ($42 if personalized). The price of the book increases to $42 on January 01. All in-person orders need to be made through Mrs. Rollison. Online orders can be placed at
https://yearbookforever.com/
.

Our K-12 flu vaccine clinic will be held on November 20. Permission form return deadline has been extended to November 6th. All forms were emailed to parents. If you did not receive one or need a printed copy, email Nurse Kelly at
tkelly@marcelineschools.org
. It is especially important this year with the COVID epidemic that parents consider getting their families vaccinated against the flu. We want to do everything we can to prevent 2 severe respiratory viruses from circulating in the area. Since COVID-19 and flu have similar symptoms like fever, chills, fatigue, body aches, and coughs, people who get the flu may need to be tested for COVID-19, and then quarantine until they get the test result. This could mean more days out of school or work.

Milan Athletic Guidelines for Tuesday's MS basketball game are attached. Game times have changed to B girls (1/2) at 5pm, followed by A girls. All fans will be asked to leave the premises for cleaning. B boys (1/2), followed by A boys will then begin. Fans for boys game only will not be allowed in the building until girls games are completed.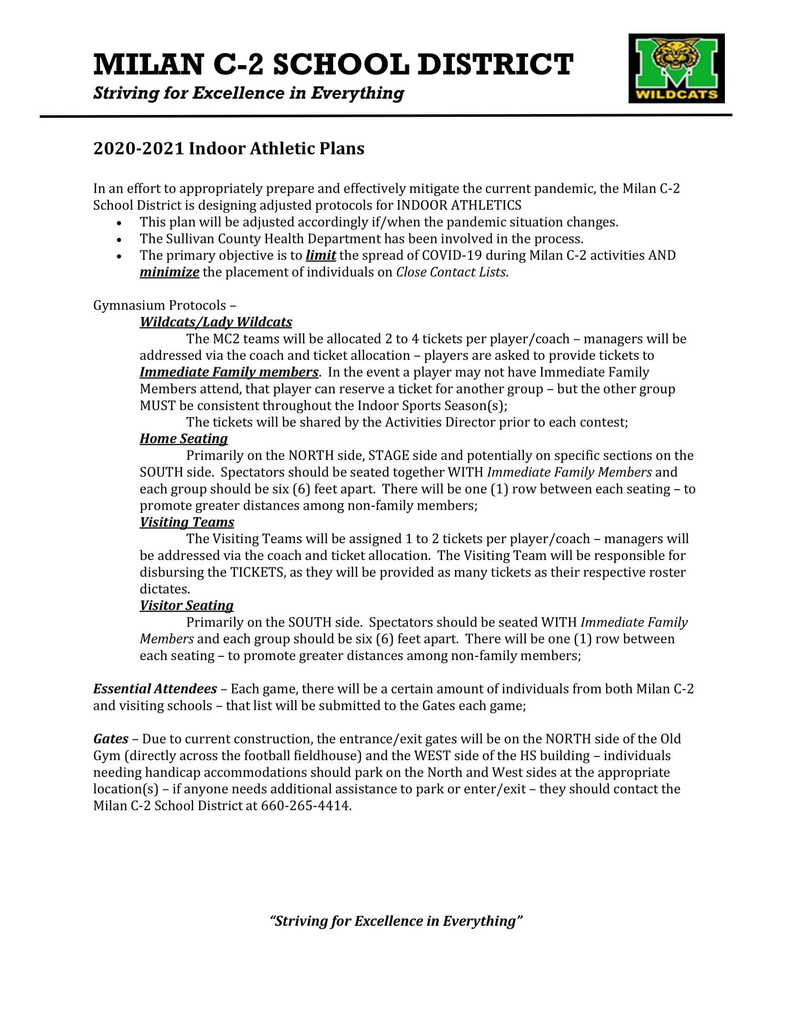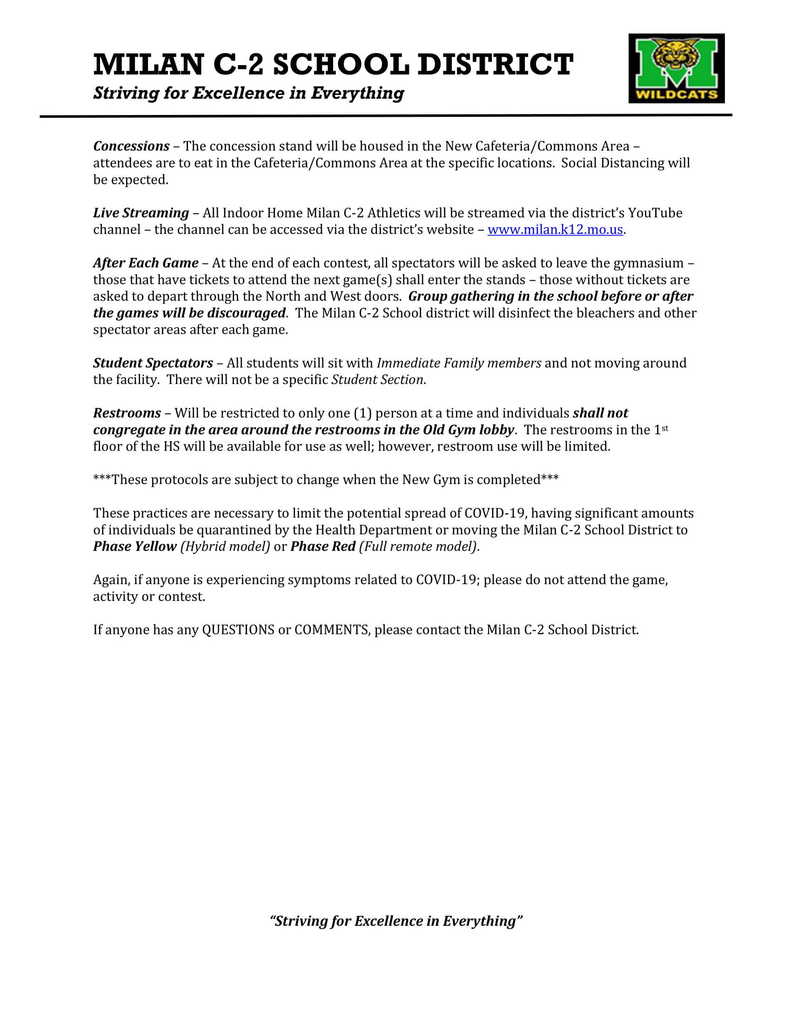 MS/HS student of the week

Menu Change for Thursday October 29th Chicken Nuggets French Fries Corn Fruit

Congratulations to the following on making all-region softball: 1st Team: Ireland Bloss, Ciarrah Bell, Cassi Rodgers, Gracey Jordan; 2nd Team: Addison Huber & Sarah Kussman. Go Tigers!

Letter from Superintendent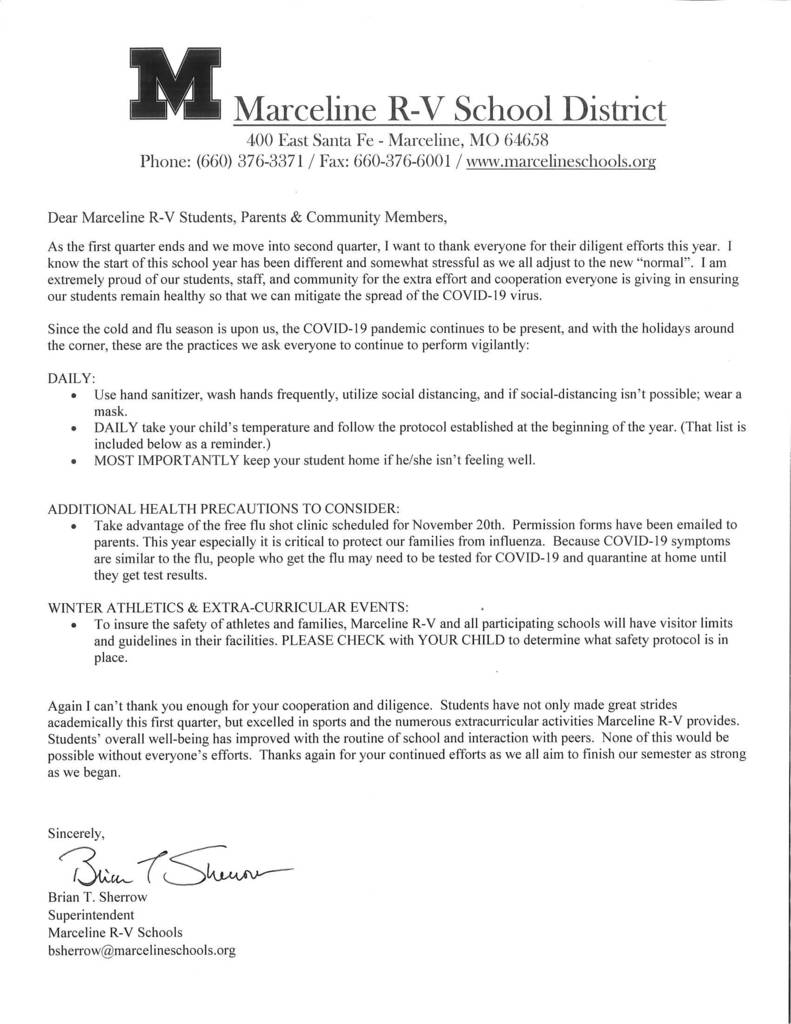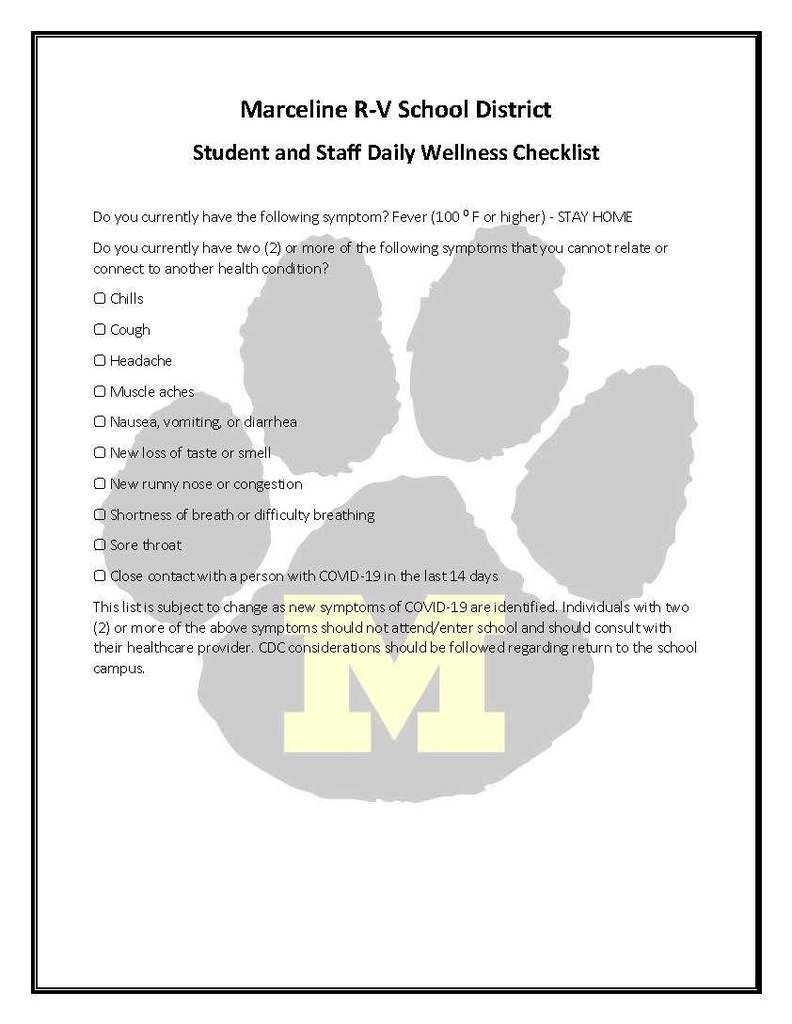 Flu shot clinic is November 20 and permission forms were emailed to all parents K-12. ELC students will not be participating. Please return your permission forms at parent-teacher conferences or email to Nurse Kelly at
tkelly@marcelineschools.org
. Forms will also be available in the front lobbies during parent-teacher conference day. Permission forms accepted until October 30.

Congratulations to the following softball players on earning all-conference/all-district honors!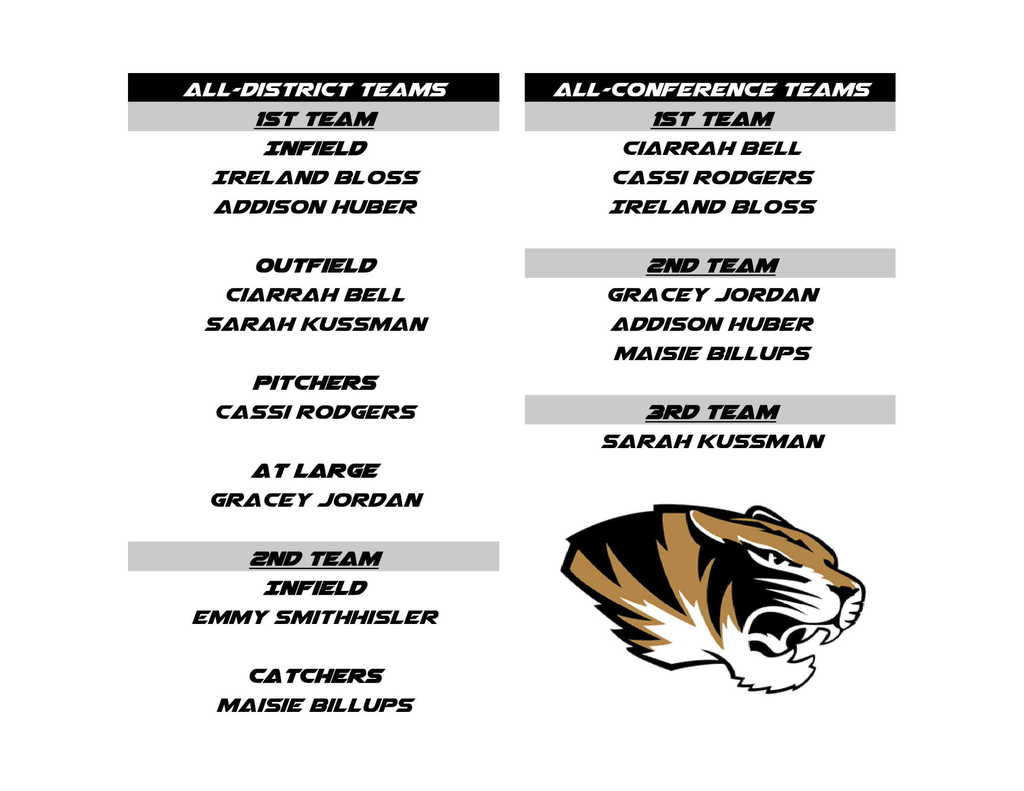 Congratulations to Tess Sheerman as she finished 30th at the state golf tournament!